January 10, 2018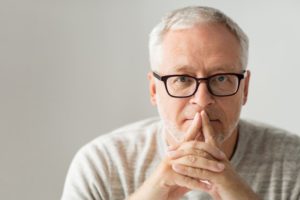 Your oral health is tied to your overall health in many different ways. The mouth can act as a window for the rest of the body in that it gives dentist more information about their patients' overall health. If they can discover signs or symptoms of other disease, then they will have it addressed by a general practitioner or even advise you to go to the hospital if necessary.
According to recent studies, patients who have poor oral health or gum disease are at a higher risk of gum disease. Your dentist wants to help you fight gum disease in La Porte by any means necessary. That's why this study is such a big concern for him. Today, we 'll be looking at the study and showing you how to prevent future gum disease.
An Overview of the Study
According to researchers from the University of Lancashire in the United Kingdom, a bacterium known as Porphyromonas gingivalis was found in the brains of patients who had dementia when they were alive. This bacterium is more commonly associated with chronic periodontal or gum disease.
Published in the Journal of Alzheimer's Disease, the study examined 10 brain samples from patients with dementia. The samples were donated for analysis by a scheme called Brains for Dementia Research. The 10 samples were then compared to another 10 samples of brains who did not have the disease.
The researchers believe it's more likely that the bacterium reached the brain after an invasive dental treatment, rather than common tasks like eating, chewing and brushing teeth. Therefore, they believe that invasive dental treatments increase the bacterial risk for patients.
This is not the first time that poor oral health has been linked to Alzheimer's.
Other Studies Link Poor Oral Health to Alzheimer's
This recent study only adds to another study done three years prior that also found poor oral health to be linked to Alzheimer's. According to research coming out of New York University, long-term evidence revealed a link between gum inflammation and an increased risk of cognitive dysfunction.
Additionally, a study from the University of New Mexico suggested that Herpes simplex virus type 1 was linked to Alzheimer's. Apparently, the bacteria from cold sores was connected to cognitive decline in patients.
With so many studies focused on gum disease, what's the best way to prevent it in the first place?
How to Fight Against Gum Disease
To fight gum disease, brush for at least two minutes twice a day with a fluoridated toothpaste. Make sure to brush along the gumline to remove plaque from the many pockets between your teeth and gums. Floss at least once a day to clean the sides of your teeth and consider including a mouth rinse to remove plaque from hard-to-reach areas of the mouth.
Furthermore, be sure to visit your dentist twice a year for dental exams and cleanings. Only they have the tools necessary to remove plaque in places you can't reach and calcified bacteria known as tartar from your mouth.
Don't put yourself at risk for gum disease. Schedule an appointment with your dentist in La Porte as part of your preventive oral measures.
About the Author
Dr. Daniel Berquist obtained his BS in biology from Olivet Nazarene University. He eventually earned his Doctor of Dental Surgery degree from Indiana University's Dental School. One of the most rewarding aspects of his job includes building relationships with his patients and offering compassionate dental services to his community. To learn more about his practice, contact him at (219) 362-8980 or visit his website.
No Comments »
No comments yet.
RSS feed for comments on this post. TrackBack URL
Leave a comment