Dentures – La Porte, IN
Achieve a Complete, Beautiful, & Functional Smile Again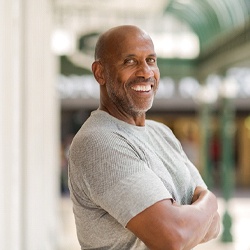 Whether you're currently missing several teeth or are on the brink of losing an entire arch of teeth, the right denture can make all the difference. With these customized sets of prosthetic teeth secured onto gum-colored bases, you'll feel comfortable flashing your grin, talking with loved ones, and digging into your favorite foods. Here at Region Dental, Dr. Daniel Berquist and Dr. Joseph Ornelas provide high-quality dentures in La Porte, IN to help you achieve a complete, beautiful, and function smile again. Contact us today to schedule an appointment and learn more!
Who Is a Good Candidate for Dentures?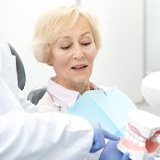 If you're missing a few, several, or all of your natural teeth, then it's very likely that you're a good candidate for dentures. Before we begin the dentures process, our dentists will need to make sure your mouth is free of any health issues that could compromise the success of your treatment. Problems like gum disease or decay in your remaining teeth must be addressed. Once your mouth is sufficiently healthy, we can begin reconstructing your smile.
Types of Dentures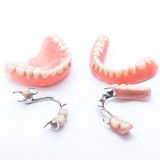 When it comes to tooth replacement, every patient has different needs. At your consultation, your dentist in La Porte can discuss your situation and determine which type of denture will best bring back your smile. Modern dentures are made from comfortable, lifelike materials that are built to last, so you can trust that no matter which type of denture we recommend, it will closely resemble your original pearly whites.
Full Dentures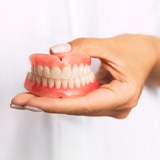 Just like the name suggests, a full denture replaces an entire arch of missing teeth and can be used in the upper or lower jaw. It is held in place using a natural force of suction on the gums. A small amount of denture adhesive can also add stability.
Partial Dentures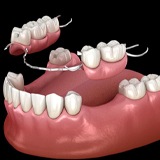 A partial denture replaces several missing teeth when some healthy natural teeth are still present in the mouth. These teeth may be missing all in a row or from various parts of the mouth. Partial dentures are held in place by clipping behind the natural teeth. Because the artificial teeth are personalized to mimic your natural ones, a partial denture fits in your mouth like a missing puzzle piece.
Implant Dentures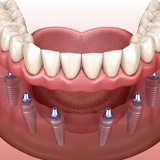 The closest thing to having your home-grown teeth back is by anchoring a denture onto dental implants. These tiny cylinders are surgically placed in your jaw and are made of titanium, a material that fuses with the jawbone in a process known as osseointegration. After the implants have essentially become your new tooth roots, they provide unmatched stability for the full or partial denture that is attached on top.
The Benefits of Dentures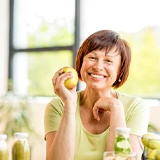 There are plenty of options these days for replacing your missing teeth, but dentures have remained popular for decades – even centuries. That's because of the numerous benefits they offer, which include:
Relatively fast treatment process
Replacement teeth that can last for up to a decade
Enhanced ability to speak with clarity and chew with ease
Support for your facial muscles, which can keep you looking young
Natural-looking prosthetics
An affordable way to restore your smile and confidence