Beautiful Smiles with La Porte Cosmetic Dentistry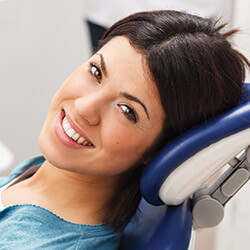 In most cases, the improved home hygiene routines and regular preventive care available to dentistry patients are considered to be good news, but there is one small downfall to patients being able to keep their natural teeth for life. Over time, even the most meticulous brusher and flosser can begin to see signs of dental wear and discoloration. It's no surprise that cosmetic dentistry has become increasingly popular in recent years. Dr. Daniel Berquist and Dr. Joseph Ornelas offer a variety of cosmetic dentistry services for patients from La Porte County.
Porcelain Veneers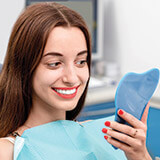 Veneers are a popular cosmetic service because they make it possible for our team to conceal a number of small flaws in just a few short visits. After removing a minimal amount of tooth enamel from affected teeth, impressions are taken to be used by our dental lab to craft a custom porcelain veneer. Until the custom solution arrives, patients are fitted with a temporary veneer to protect the prepared teeth. When the final porcelain veneer is returned to our office, patients exchange the temporary restoration for a flawless smile.Learn More About Veneers
Metal-Free Restorations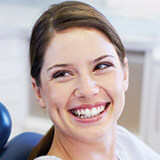 In the past, porcelain-bonded to metal crowns, inlays, onlays, and fixed bridges were the most natural looking dental restoration material. Over time, as the porcelain was worn down, the darker colored metal below became visible, leading to dark spots and bands around treated teeth. Additionally, patients with sensitivities to metal were often unable to successfully receive porcelain-bonded to metal restorations, as they could trigger an adverse reaction. Metal-free restorative materials are the ideal solution for patients who want to fully restore the form and function of their damaged smiles without risking rejection due to metal allergies. These restorations are crafted from individual blocks of ceramic, so there is reduced risk for cracking or fracturing over time. Since the entire restoration is shaded to match the tooth, there is no discoloration as the restoration wears away over time.
Direct Bonding
Tooth-colored fillings have raised the standard of care for patients when compared with traditional amalgam fillings, offering superior cosmetic and restorative results. Direct bonding (otherwise referred to as cosmetic bonding) uses the same composite resin materials to correct cosmetic flaws in patients' smiles. Some of the irregularities we may be able to conceal or correct with direct bonding include:
Small chips and cracks in teeth
Gaps between teeth
Discolored or stained teeth
Worn or shorter teeth
Direct bonding makes it possible to correct or conceal these and other irregularities in a single appointment for a fraction of the cost of veneers. Most patients don't even need local anesthesia to complete this quick, painless procedure. However, bonding is not right for every patient. If you're interested in finding out more about bonding or other cosmetic dentistry services at Region Dental, contact our friendly team to schedule a cosmetic dentistry consultation today.
Cosmetic Dentistry FAQs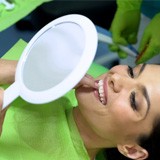 By now, you may be thinking cosmetic dentistry could work for you. Still, you should learn more about it first. Doing so would let you go into your visit with confidence. As it happens, we at Region Dental can help things along: below are some answers to popular aesthetic dentistry questions. By reading them, you'll understand how a cosmetic dentist in La Porte can help. If you need other facts, though, don't worry – you can always call our office for the details.
What Exactly Is Cosmetic Dentistry?
You might know that general dentistry focuses on primary dental care. Namely, it offers preventive and restorative treatments that improve and protect your oral health. Well, cosmetic dentistry takes a different approach.
You see, a cosmetic dentist specializes in beautifying your smile. Their treatments are aimed at making your teeth and gums look nicer. As such, their work is usually offered to people unhappy with their grin's appearance.
For these reasons, cosmetic dentistry is a great option for those with smile flaws. Such issues might include tooth stains, chips, cracks, misalignments, etc. With the proper procedure, your pearly whites can live up to their nickname and give you more confidence!
Is Cosmetic Dentistry Expensive?
Admittedly, cosmetic dentistry has a reputation for being a tad pricey. However, treatment doesn't have to be expensive with the right options.
For one thing, many practices have a wide range of payment options. Region Dental Care itself offers flexible financing through CareCredit. This service allows you to pay for dental services in low-interest, monthly installments. That way, you can gradually cover cosmetic dentistry's cost instead of doing so all at once.
At the same time, improving your smile is a great investment with priceless perks. For a moderate upfront fee, it'll significantly improve your self-esteem, confidence, and quality of life. Your newly-attractive smile may even lead to better job prospects, so your care might just pay for itself!
Is Cosmetic Dentistry Covered by Insurance?
In general, dental insurance won't cover cosmetic dentistry. It considers the latter's treatments elective procedures and thus "medically unnecessary." Even so, there are occasional exceptions.
In particular, insurance may cover a cosmetic procedure if it also provides oral health benefits. A crown or veneer might get partial coverage, for instance, if it builds up or protects a damaged tooth. Similarly, gum recontouring may qualify when you have an infection in your gums. About 50-80% of the cost is usually covered in these cases. That number varies, though, based on the individual policy.
Our team can help you understand your specific plan , file your paperwork, and maximize your benefits.
Is Cosmetic Dentistry Safe?
You can rest easy – cosmetic dentistry is perfectly safe! When performed by a trained professional, its procedures are harmless.
Of course, not every treatment is right for every patient. Some cosmetic work can pose a risk if underlying health issues aren't treated first. (Placing a veneer over a decayed tooth will just make the decay harder to fix.) Therefore, your dentist will give you an oral exam beforehand. This step lets them see which services may not be suitable for you.