Emergency Dentistry in La Porte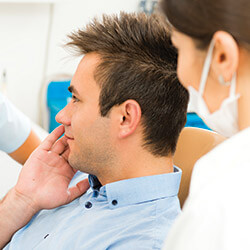 At Region Dental, we are dedicated to making dental care available when our patients need it most. We offer early morning and evening appointments for our patients' convenience, and we also do our best to provide same day appointments during dental emergencies. An unexpected emergency can be extremely stressful for patients, but simply having a plan of action in advance can significantly reduce that anxiety. Dr. Daniel Berquist and Dr. Joseph Ornelas are happy to help patients by offering first aid tips over the phone, scheduling appointments right away, and answering questions in order to help patients stay calm and get the care they need.
Follow the 4 'C's of Dental Emergencies
Calm – stay calm! We know this is easier said than done, but when we're upset, blood pressure increases, making it more difficult to stop bleeding and determine the extent of pain and damage.
Call – call our team right away. We'll answer your questions and help you take simple first aid steps to manage pain until you arrive.
Clean – swish warm water in the mouth to remove any debris or blood from the affected area. If large portions of teeth or full teeth have been knocked out, carefully handle the tooth by the biting surface and clean with water.
Cold – use an ice pack at 20 minute intervals (20 on and 20 off) in order to slow bleeding, reduce swelling, and relieve pain.
If you or a loved one experience bleeding that doesn't stop for one or more hours, or you believe you have a broken jaw, proceed immediately to the nearest emergency room. Call our team on the way, and we'll be happy to work in partnership with medical physicians to restore your oral and overall health safely.