Dental Crowns & Bridges in La Porte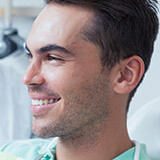 Dental crowns are restorations for extensive dental damage that fit over the tops of affected teeth. Crowns can be crafted from a number of materials, including gold, silver, porcelain bonded to metal, and metal-free ceramics. The placement process for dental crowns typically requires two appointments. During the first visit, the decayed or damaged tooth is prepared and impressions are taken. These bite impressions are sent to a dental lab, where a high-quality custom crown is crafted. In the meantime, patients are fitted with a temporary crown to protect their treated teeth until the custom crown arrives. At the second appointment, we exchange the temporary and permanent crowns, fully restoring smiles.
Fixed bridges are the traditional method for restoring individual missing teeth or up to three consecutive missing teeth. This tooth replacement solution is often called crown and bridge because it utilizes dental crowns placed over surrounding teeth to support a replacement ("bridge") tooth. The process is similar to the dental crown placement process except our lab crafts a single dental prosthetic that consists of two dental crowns connected to a replacement tooth. The entire restoration is placed as a single unit, and the dental crowns are affixed to healthy teeth for support.
Dental crowns and fixed bridges can also be supported by dental implants for a more natural look and feel that does not require the removal of healthy dental structure. Additionally, we use dental crowns as part of root canal therapy. A crown is placed over a tooth following a root canal to provide increased stability for the treated tooth. Crowns and bridges offer versatile, natural looking and feeling restorations for even the most damaged smiles. If you have questions or want to find out more about crowns and bridges or any of our dentistry services, contact our La Porte, IN office today.