Implant-Retained Dentures – La Porte, IN
Stabilize Your Denture with Dental Implants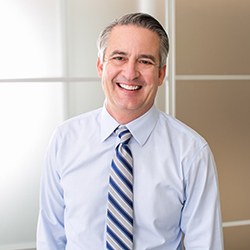 If you're like many adults, you probably never expected to suffer significant tooth loss. If you're among the 35 million adults who have lost all their natural teeth in one or both arches, you likely tried a traditional denture to restore your smile. Although you had high expectations, they probably didn't give you the performance you had wanted. You can eliminate slipping and irritation with implant-retained dentures in La Porte. You'll enjoy unmatched stability to chew, speak, and smile without any worry.
How Do Implant-Retained Dentures Work?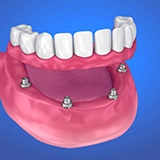 A traditional denture features a gum-colored base that's held to your gum tissue using suction or an adhesive. This restores a beautiful smile while also allowing you to enjoy many of your favorite foods again. While it's an effective treatment, dentures will always have their limitations. Implant-retained dentures solve the common complaints of a conventional denture.
Instead of relying on suction or an adhesive, an average of 4 to 10 implant posts stabilize your denture. It will be anchored to your jawbone, giving you the next best thing to your natural smile.
Am I a Candidate for Implant-Retained Dentures?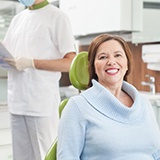 If you've lost all your teeth in one or both arches and a traditional denture didn't give you the results you wanted, you might be a candidate for an implant-retained prosthetic. Your dentist in La Porte will perform a thorough consultation to assess your risk factors for potential complications. Generally, if you have good oral and general health, you're a candidate for the treatment, but we'll also review your medical and lifestyle history. We will also examine a CT scan of your oral structures to ensure your jaw can support the posts.
The Implant-Retained Denture Procedure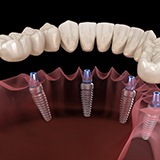 Unlike a traditional denture, the process for dental implants takes several months and you will need oral surgery; however, it's time well spent to enjoy a solution that can last for a lifetime. After you've healed from any previous treatments, like bone grafting, you're scheduled for your implant surgery.
Sedation or anesthesia is used to ensure your comfort as your gum tissue is opened to expose your jawbone. Titanium implant posts are surgically placed into the bone to serve as new tooth roots. Over the next several months, your jawbone fuses to the posts, allowing them to potentially remain in place forever with the right aftercare.
After your jaw is healed, you'll be fitted for your denture. It will clip on to your dental implants to hold your denture securely in place.
Benefits of Implant-Retained Dentures
The support of dental implants provides unmatched benefits not possible with a traditional denture, such as:
Over a 95% success rate.
Looks and feels natural.
Regain as much as 70% of your biting force.
Preserves your jawbone's density.
Supports your facial tissues.
Improves your oral health.
Easy maintenance and care.
Long-term, cost-effective solution.
Schedule an Appointment Today
If you're ready to enjoy a close replica of your natural smile, it's time to see if dental implants are right for you. Contact our office today to schedule your consultation.