Veneers – La Porte, IN
Achieve the Smile of Your Dreams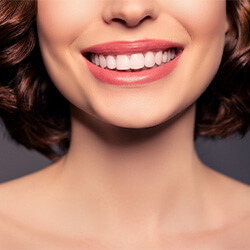 When you feel uncomfortable showing off your smile, it can really dampen your mood and make it difficult to express yourself to the fullest. Over time, teeth can become chipped, cracked, stained, or damaged in one way or another, even if you have good oral health. Thankfully, you don't have to settle for your imperfect smile. That's where veneers in La Porte can completely transform your smile and give you newfound confidence. Call our office to learn more about veneers and see whether they're right for you!
What are Dental Veneers?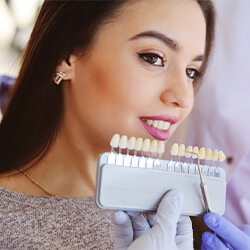 Veneers are essentially ultra-thin sheaths of dental ceramic that are color-matched to blend in with your existing teeth as closely as possible. Because they cover the entire tooth once placed, they can be used to cover multiple issues at a time. This includes cosmetic chips and cracks, stains and discolorations that do not respond to whitening, and even small gaps.
While veneers can be made from acrylic, the dental lab we partner with uses ceramic dental porcelain to ensure the best esthetics possible. By using porcelain, we can give them the best longevity possible and reduce your risk of developing stains over time (porcelain is smooth, making them more resistant to discoloration compared to porous enamel).
The Process of Getting Veneers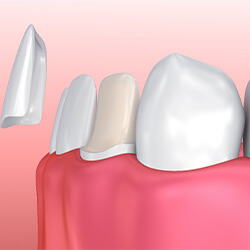 If you're considering veneers, you'll need to complete a consultation with one of our dentists so we can determine if treatment is right for you. We'll discuss your smile goals as well as perform a detailed exam to ensure you can have veneers placed. For example, any tooth decay or gum disease will need to be handled first before we move forward.
If you are eligible to receive veneers, we'll start by administering a local anesthetic to the tissue nearby the teeth we intend to modify. This way, no sensations are felt during treatment. By removing a small amount of enamel, the veneers will sit flush and look natural next to your existing teeth.
Prior to placing your permanent veneers, we'll capture impressions of your teeth and send these molds to a dental lab so they can be fabricated. We'll then place temporary restorations onto your teeth to not only protect them, but also help you adjust to your new smile. After about two weeks, you'll come back to have your permanent veneers bonded.
The Benefit of Veneers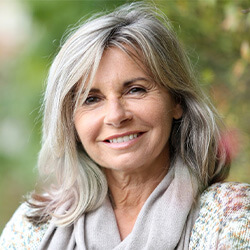 Veneers can be ideal for those with several imperfections but still want to enhance their smile as quickly as possible with just one treatment. For this reason, they are widely considered to be the most versatile treatment in cosmetic dentistry. With routine maintenance, they can also last for 15 years and longer, which cannot be said for other cosmetic enhancements.
Since every veneer is personalized to your smile exactly, you can expect them to look natural and lifelike. No one but you and our office should be able to tell that you had veneers placed (that is, unless you tell them of course!)