Restorative Dentistry – La Porte, IN
Repairing Smiles with Strength & Beauty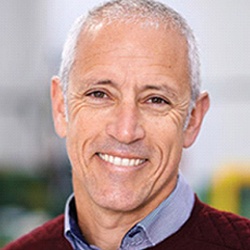 The focus of dentistry should always be on helping patients maintain their optimal level of oral health, but even the most committed at-home care may have gaps, and it's difficult to prevent other oral health concerns like facial trauma. No matter what the cause of oral health concerns, our team offers restorative dentistry services and tooth replacement to renew smiles for residents of Westville and other nearby locations. In our La Porte, IN practice, Dr. Daniel Berquist and Dr. Joseph Ornelas offer advanced restorative dentistry services to keep patients smiling.
What if I Do Nothing?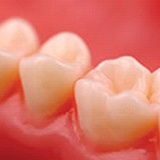 If you have broken, decayed, or lost teeth, it's important to get treatment right away. Unlike other medical conditions that can get better with time, these dental problems will only get worse, leading to even more severe health and aesthetic issues like additional tooth loss, infection, and permanent gum tissue damage. Thankfully, we offer all of the services you need to get back to smiling with health and happiness. We can seamlessly repair and restore your smile with a variety of treatment options. If you need restorative dentistry in La Porte, please don't hesitate to contact our office!
Tooth-Colored Fillings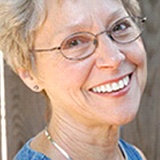 For decades, silver-colored amalgam fillings were the standard restoration for chipped, cracked, or decayed teeth. While this filling material is durable, it created noticeable dark-colored marks on otherwise flawless smiles. Additionally, amalgam expands and contracts with changes in temperature. Over time, these changes may harm the natural dental structure. At Region Dental, we offer a more cosmetically appearing alternative: composite resin fillings. This malleable filling material can be shaded to closely match the natural tooth color and is applied and shaped directly onto prepared teeth. Once the damaged structure is replaced with the precisely shaped tooth-colored filling material, a curing light is used to harden the filling in place. Benefits of tooth colored fillings include:
No impact on the appearance of teeth
The direct bond between tooth and filling means reduced risk for the filling to chip or breakaway from the tooth
While composite resin material is not as durable as amalgam, the restoration process actually improves the natural strength of teeth
Partial & Full Dentures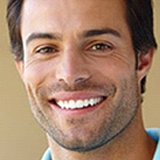 For patients missing a number of teeth or a full arch, we will likely recommend partial or full traditional or implant-retained dentures. No tooth replacement solution is right for every patient, and our team is happy to discuss all of your options during a tooth replacement consultation.
Partial dentures– crafted with a series of prosthetic teeth set into a gum-colored base, partial dentures clip onto remaining healthy teeth with metal bars and clasps, filling in the gaps in smiles like a puzzle piece.
Full dentures– similar to partials, full dentures are a prosthetic with a full row of replacement teeth set into a gum-like base. Rather than clipping into position, full dentures are held in place using natural suction or small amounts of denture adhesive.
Dental implants– implant-supported tooth replacement allows our team to offer patients more natural looking and feeling dental restorations for any number of missing teeth, from one tooth to implant-retained partial and full dentures.
Root Canal Therapy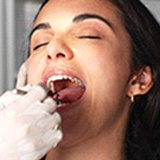 Root canals have a reputation for being excruciatingly painful, but actually, the procedure itself causes no more discomfort than most common dental crowns or fillings. The pain of root canals is caused by infection accessing the central part of the tooth (the pulp) where the entire nerve systems of teeth are housed. When infection reaches the pulp, it directly affects the nerves of teeth, causing severe pain. During a root canal, the infected pulp and nerve tissue is completely removed, eliminating pain almost instantly. Once the damaged tissue is removed, our team replaces the tissue with a similar biocompatible substance and seals the treated tooth shut. In most cases, a dental crown is placed over the tooth in order to protect the remaining dental structure and provide added strength and stability. Contact our team right away if you experience any of these warning signs of root canal infection:
Severe toothache
Sensitivity to changes in temperature
Discoloration of one tooth
Infection in the gum tissue around an individual tooth
Tooth Extractions
In most cases, our team will work hard to preserve natural dental structure for patients, but there are some situations where extraction is unavoidable. The most common reasons for extraction include:
Severe tooth decay that has spread to the gums or surrounding teeth.
In preparation for orthodontic treatment when one or more teeth causes unnecessary crowding and other concerns.
Third molars (wisdom teeth) erupt last in smiles between the ages of 17 to 25, and cause a number of concerns that could warrant extraction, including crowding, orthodontic misalignment, and impaction (inability of teeth to erupt).
Patients with severe gum disease may need to have teeth extracted in order to allow their immune system to adequately respond to and reverse damage caused by gum disease.
Those being treated for systemic diseases, undergoing surgery, or who have immune compromising illnesses will likely be encouraged to remove teeth if there is any chance of spreading infection.