Dental Implants — La Porte, IN
Replace Missing Teeth From the Roots Up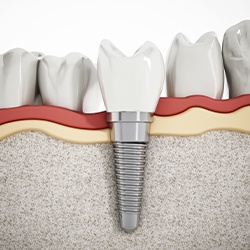 In the past, the only way to replace missing teeth was with dentures or a dental bridge. While these options restored the appearance of your smile, they only replaced teeth above the surface of your gums. Now, thanks to the latest dental materials, techniques, and technology, we can replace missing teeth from the roots up with the help of dental implants in La Porte! This modern tooth loss solution provides unmatched stability, functionality, and comfort, making the fell and look much more like your home-grown pearly whites. Whether you're missing a single tooth or an entire arch, dental implants can improve your smile, health, and quality of life. Give us a call to schedule your dental implant consultation today!
Why Choose Region For Dental Implants?
Fair & Honest Prices with No Hidden Fees
Partnered with Skilled Local Surgeons for Reliable Results
Replace Any Numb of Teeth for Decades
What Are Dental Implants?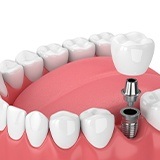 Dental implants aim to recreate the entire structure of a natural tooth with three main parts. A small titanium implant post is inserted into your jawbone to mimic the roots of your missing tooth or teeth. On top of it is a connector piece called an abutment, which secures your final restoration to the implant post. This custom-made crown, bridge, or denture will look, feel, and function just like your natural teeth thanks to its firm foundation in your jaw via the implant post. When you rebuild your smile from the roots up, you can achieve results that look, feel, and function just like natural teeth!
The Dental Implant Process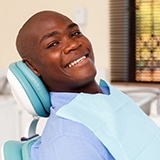 Just like no two smiles are exactly the same, the dental implant process will vary from patient to patient based on their unique needs and goals. When you come in for your initial consultation, Dr. Berquist or Dr. Ornelas will formulate a customized treatment timeline for you and answer any questions you may have. They'll walk you through the process step by step, so you'll know exactly what to expect while rebuilding your smile.
Dental Implant Consultation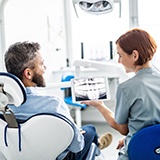 To ensure your new smile has everything it needs to thrive, you'll need a consultation with your dentist in La Porte. Besides a visual examination, we will also discuss your medical and lifestyle history to ensure you have minimal risk factors for complications. We will also use a CT scan to look for any issues that might be brewing beneath the surface, like infection or bone loss. Depending on the results of the consultation you might need additional treatments before moving forward with your placement surgery, like periodontal therapy, bone grafting, or tooth extractions. After you've healed from any previous treatments, you can move forward with your placement surgery.
Dental Implant Surgery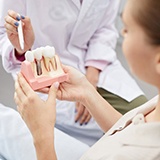 Dental implants are a long-term investment in your smile, so it's essential that they're placed perfectly. We partner with some of the best oral surgeons in the area to ensure this step in your treatment is as successful, comfortable, and smooth as possible.
To place the dental implant post, the surgeon will make a small incision in your gums to reach the jawbone, where they'll drill a small hole into a predetermined location. The dental implant post is then inserted and the gums are sutured closed. A small cap will b placed over the top of the implant post to protect it and maintain the shape of your gums as the healing process begins.
Dental Implant Osseointegration & Abutment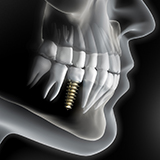 After your surgery, the dental implant post will undergo osseointegration. This is the process where it fuses with the surrounding bone tissue to essentially become a part of your jaw. This is a very gradual process that typically takes four to six months. Then, if the abutment wasn't attached during the initial surgery, you'll complete one more minor surgery to have this small connector piece secured into place.
Delivery of Final Restoration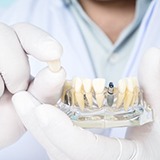 It takes about 2 weeks for your mouth to heal after placing the abutment. During this time, our office is hard at work creating your restoration. We use all-ceramic material to ensure it looks like a real tooth. It's carefully crafted to match the color, size, and shape of your teeth to blend in. It will look and feel natural, so you can chew, speak, and smile confidently.
Benefits of Dental Implants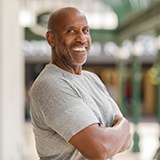 Many patients are drawn towards getting dental implants in La Porte because this option offers a variety of benefits that traditional treatments, like dentures, don't. Because dental implants are fused with your jawbone, you won't have to deal with a variety of issues that occur due to the instability of traditional bridges and dentures. Over and over again, our patients find that this replacement solution is well worth the time and effort upfront to enjoy a lifetime of strong smiles.
Day-to-Day Benefits
Dental implants are designed to mimic real teeth in nearly every way. Improved stability for tooth replacements makes it easier to eat and speak. Because your implants don't rely on natural suction to stay in place, you won't have to worry about them slipping or shifting in your mouth like you would with traditional dentures. In addition, you're sure to have boosted confidence because your restorations will look and feel completely natural. Unlike normal dentures, implants also require easy, uncomplicated maintenance. All you have to do is remain diligent about brushing and flossing your teeth every day and visit Region Dental as usual. It's really that simple!
Health Benefits
When a tooth root is gone, the body resorbs the nutrients that would normally be sent to the jawbone. Over time, the bone loses density and strength, weakening your ability to bite and chew. Unfortunately, traditional dentures do nothing to stop this degradation, which is why so many denture wearers still struggle with eating fibrous, nutritious foods. As a result, they can suffer from many other health issues and even have a shorter life expectancy. Implants keep the jawbone strong, enabling you to maintain a healthy diet and increasing your quality of life.
Long-Term Benefits
While dentures and bridges need to be replaced about every 10 years at the longest, implants can last for more than 30 years and still be successful. This means that you can hold onto your youthful facial structure for as long as possible, continue to have a strong jawbone, and save money on tooth replacements down the road. Although this treatment involves a lot of work, time, and resources upfront, implants could end up costing you less overall, allowing you to enjoy more freedom as you age.
Who Dental Implants Can Help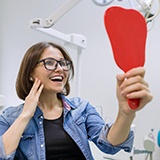 Dental implants are widely considered by both patients and dentists alike to be the gold standard of tooth replacement. What's more, practically any healthy adult can get dental implants! However, many of our patients are not necessarily considered "good candidates" initially. During your consultation, we'll inspect your smile and help you address any issues that would threaten the success of your dental implant. Then, once you're ready for your brand-new smile, we'll work with you to pick the right type of dental implant for you.
Who Is a Good Candidate for Dental Implants?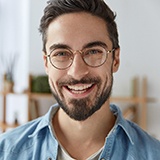 Typically, you'll need three things to be considered a good candidate for dental implants:
Good overall health: Placing dental implants is a surgical procedure, so you need to be healthy enough to undergo minor surgery.
Great oral health: Problems like tooth decay and gum disease can potentially cause dental implants to fail, so they need to be taken care of first.
Adequate jawbone density: Your jawbone needs to be thick and dense enough to support your new dental implants. If it isn't, we may recommend bone grafting to strengthen your jaw.
Don't worry — just because you're not a good candidate for dental implants right away doesn't mean you can't become one! If needed, we'll be happy to help you get on track for rebuilding your smile. Then, once you're ready for treatment, we'll help you determine which type of dental implant restoration is right for you depending on the extent of your tooth loss.
Missing 1 Tooth
If you have a single gap in your smile, we may suggest an implant-retained crown. Without altering your surrounding healthy teeth, we can restore the root and biting surface of your tooth with a custom-crafted crown made from strong porcelain or ceramic. Not only does this option last longer than a traditional crown, but it also will keep your other teeth from drifting out of place to fill in the gap of your missing tooth.
Missing Multiple Teeth
Traditional bridges require the preparation of your surrounding natural teeth to anchor the replacement teeth in place. Instead of putting your healthy pearly whites at risk, we may suggest replacing two or more consecutive teeth with an implant-retained bridge. They will be secured in place with titanium implants, allowing for a natural look and feel.
Missing All Teeth
For patients with significant tooth loss, the most efficient solution is an implant denture. Instead of relying on the gums or remaining healthy teeth to hold them in place like traditional full or partial denture, implant dentures are anchored into place with four to eight dental implants.
We offer many types of implant dentures, including both removable and fixed (non-removable). We can also help you replace all your missing teeth with All-On-4 implant dentures. This method holds a full denture in place with just four strategically placed dental implants. During your consultation, we'll fully review all your options and explain our recommendations.
Learn More About Implant Dentures
Understanding the Cost of Dental Implants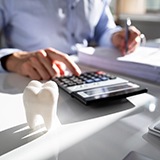 The cost of getting dental implants from your dentist in La Porte varies from patient to patient. Several customized details go into factoring the cost of each procedure, such as how many teeth you're replacing, which makes it impossible to quote one default price. Because the entire process takes place over the course of several months and appointments, you'll only need to pay for one portion of the treatment at a time. Plus, at Region Dental, we offer additional financing through CareCredit and we are an in-network provider for Delta Dental. Our team will do everything we can to help maximize your benefits and make your journey towards restoring your smile as easy and hassle-free as possible!