May 14, 2018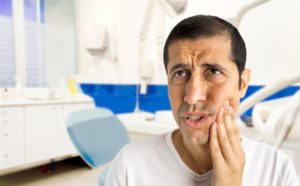 You've had a long oral health journey already. Facing tooth loss was already a challenge, then you replaced them with dental implants in La Porte, which was a full process in itself. Just when things started to "look up" again because you have a complete smile, you've been starting to notice some discomfort around the site of your dental implant.
If you're concerned about your implant or if it's failing, reading this post may be able to provide some clarity. We're going to be talking about rare implant failure and how your dentist may be able to help with it.
Signs That You're Experiencing Dental Implant Failure
When you get dental implants, you learn that their success rate is impressively high—upwards to 95% and above. However, there are some patients who may experience rare implant failure after their placement. You'll know that there's a problem with your implant if:
You feel pain or discomfort at the site of the implant.
There is swelling or inflammation of the gums.
The implant feels loose or insecure in its place.
You have difficulty chewing or biting.
Why Dental Implants Fail
There are several reasons why you may need to consider restoring your implants, one of them being that you may be experiencing late-term implant failure. The common causes of failure are an infection known as peri-implantitis and bone loss.
This infection forms around the implant and in the gum tissue. Most often, this is the result of poor oral hygiene or because a patient may have smoked during their healing period. Over time, it can lead to bone loss and other problems with your implant.
Get Help from Your Local Implant Dentist
If you are suffering from a failing implant, you know that you won't be able to ignore the discomfort for too long. Getting help from your dentist in La Porte is the best decision that you can make.
First, your dentist must check the implant to find the cause of the problem for a solution that caters to your specific dental problem. Sometimes, patients who think that they're experiencing a failing implant just need a deep cleaning from their dentist.
However, if you do need to have your implant serviced, your dentist will be sure to remove all signs of infection. Then they will focus on making the area more stable so that your implant doesn't wiggle or move uncomfortably. Every case is different, so it's important to allow your dentist to view your mouth to determine which solution is best for you.
Nothing is more frustrating or disappointing than having a dental implant failure. After all, when you first got all on 4 in La Porte, you thought your smile problems were over. Don't get too discouraged, though! Your dentist is here to restore your oral health.
---
About Our Office
Here at Region Dental, we're here for you throughout every step of your oral health journey—even when you experience tooth loss or need to repair your restorations. Call us today to schedule your next visit!
No Comments »
No comments yet.
RSS feed for comments on this post. TrackBack URL
Leave a comment