December 31, 2018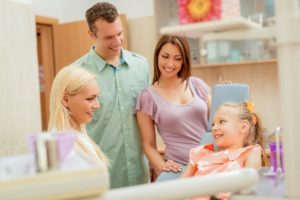 Are you looking for a new La Porte dentist? Whether you are new to the area or just looking for a change, choosing the right dentist for your family is a big decision. You need a dental team who makes each loved one feel at ease while also ensuring everyone's needs are met from one location. At Region Dental, we understand the struggle you face to find the perfect location. We strive to provide everything your family needs through all stages of life while keeping their comfort a top priority. We are always happy to accept new patients!
Your Trusted Family Dentist
We believe everyone has unique oral health needs, which is why we create individualized solutions to create generations of healthy, beautiful smiles. We take the time to get to know our patients to listen to their concerns and discuss their goals to build trusted relationships. We explain your treatments to you because we want you to feel confident in your decisions while on your journey to optimal oral health.
Enjoy Complete Services
Everyone in your home has different oral health needs, which constantly change over the years. We do not want to see you referred to another location to have those needs met. We provide complete services under one roof, so your entire family can enjoy one great dentist in La Porte, including:
Preventive dentistry.
Restorative dentistry.
Dental implants.
Cosmetic dentistry.
Emergency dentistry.
Comfortable, Compassionate Care
We know your loved ones are more likely to maintain their dental appointments if they are stress-free. We want you to enjoy your time in our office, which is why we make it our mission to provide comfortable, compassionate care.
Our office embraces the latest advancements in dentistry to enhance your comfort, like digital x-rays. Now, you no longer need to bite on uncomfortable film strips. You can enjoy a safer and simpler solution with digital technology.
With everyone having different comfort levels, we take the time to help each patient relax to feel at ease. If you have dental fears or need an invasive treatment, we can help you have a stress-free appointment with sedation dentistry.
Choose a Dental Team You Can Trust
With the right dental team by your family's side, you can invest in their oral health for many years to come. At Region Dental, we treat your family as our own while we provide the high-quality dental care they deserve.
If you need a new dentist, contact our office today to schedule an appointment. We look forward to meeting you.
About Region Dental
Region Dental believes in the power of gentle, personalized care. We create customized solutions catering to your individual needs. We take the time to build a trusted relationship with you because we want to provide you with the services you need for many years. We offer a variety of services to keep your family's teeth and gums healthy. Contact our office today to experience a different side to family dentistry.
No Comments »
No comments yet.
RSS feed for comments on this post.
Leave a comment