July 24, 2020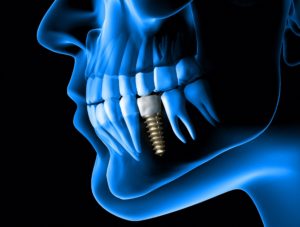 If you've lost a tooth or two over the years, you have more options than ever to restore your beautiful smile. Nowadays, many people are turning to a dental implant in La Porte instead of a traditional treatment because they replicate the entire tooth structure. A titanium post is surgically placed into your jawbone to mimic your root to secure your restoration. They are proven to last for decades with the right foundation. Here's what you need to know to ensure dental implants are right for you.
How Do Dental Implants Work?
A dental implant is unlike any other treatment because it recreates the entire tooth from the root up. The post is strategically placed into your jaw where it stimulates new bone growth. Your jaw will fuse to the post through a process called osseointegration. This provides a stable foundation for your restoration, which is attached by an abutment.
With the implant post firmly in place, your new smile has over a 95% success rate with the right aftercare. The high success rate is also nurtured by having the right framework to thrive. You'll need a thorough consultation process to ensure dental implants are right for you.
Am I a Candidate for Dental Implants?
Generally, if you're missing 1 or more teeth, you're a candidate for dental implants if you have good oral and general health. Overall, you must have minimal risk factors for complications, like medical issues that hinder your immune system. One of the biggest influencers of the success of dental implants is a preventable infection called peri-implantitis. You must be committed to your oral hygiene to keep the infection at bay.
In addition to the health of your mouth and body, your dentist in La Porte will also evaluate your jawbone using a 3D cone beam scanner. This allows them to look for any issues brewing beneath the surface, like infections or low bone density. If your dentist finds a concern, you can become a candidate for dental implants using additional procedures before your placement surgery, like periodontal therapy or bone grafting. Although it will add more steps to your treatment plan, it's time well-spent to ensure your new smile succeeds.
The images also allow your dentist to see vital tissues in the area, like your nerve pathways. They can create a personalized treatment with pinpoint accuracy to promote the long-term success of your dental implants.
How Can I Get Started?
If you're ready to invest in a smile that looks and feels natural, it's time to see if you're a candidate for dental implants. Your dentist will evaluate your oral health and discuss your lifestyle habits to ensure they are right for you. They'll explain your treatment plan and discuss what you can expect during your initial consultation.
About Dr. Daniel Berquist
Dr. Daniel Berquist strives to provide compassionate dental services using the latest advancements in dentistry. Besides earning his Doctor of Dental Surgery degree, he's furthered his training in many areas of specialty, like dental implants. Take your first step toward a complete smile by contacting our office to schedule your consultation.
No Comments »
No comments yet.
RSS feed for comments on this post.
Leave a comment