How Do Dental Implants Work – La Porte, IN
Replace the Entire Tooth Structure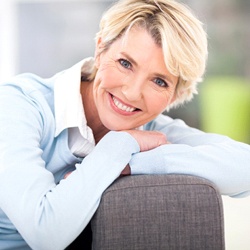 If you've lost one or more teeth, you don't need to settle for anything less than the best when rebuilding your smile. Although traditional dental prosthetics have undergone several advancements in recent years, they will always have their limitations because they only treat the portions of the teeth visible above the gum line. As an alternative, you can replicate the entire structure of missing teeth with dental implants in La Porte. The treatment process is a bit more complex than conventional solutions, but don't worry. Here's what you can expect when replacing a tooth with a dental implant.
Initial Dental Implant Consultation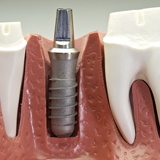 Dental implants have over a 95% success rate and can last for decades with the right foundation. To ensure your new smile has everything it needs to thrive, you'll need a consultation with your dentist in La Porte. Besides a visual examination, we will also discuss your medical and lifestyle history to ensure you have minimal risk factors for complications.
We will also use a CT scan to look for any issues that might be brewing beneath the surface, like infection or bone loss. Depending on the results of the consultation you might need additional treatments before moving forward with your placement surgery, like periodontal therapy, bone grafting, or tooth extractions. After you've healed from any previous treatments, you can move forward with your placement surgery.
Dental Implant Surgery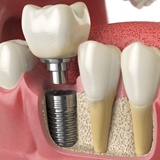 A titanium implant post will need to be surgically inserted into your jawbone to act as a new root, so you'll be referred to an oral surgeon. Sedation or anesthesia is used to ensure your comfort as a trusted oral surgeon opens your gum tissue to access your jawbone. A small hole is carefully drilled into a pre-determined location. After the post is inserted, your gum tissue is sutured closed, and the healing process will begin.
Dental Implant Osseointegration & Abutment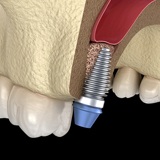 The post acts as a new root, stimulating bone growth. Over the next several weeks. Your jaw will fuse to the post through a process called osseointegration. After your jaw has healed, you'll have a secure foundation to attach your custom-made restoration. An abutment is placed onto the post using a minor surgical procedure. It's necessary to connect your restoration to the implant post.
Placement of Dental Implant Restorations
It takes about 2 weeks for your jawbone to heal around the abutment. During this time, our office is hard at work creating your restoration. We use all-ceramic material to ensure it looks like a real tooth. It's carefully crafted to match the color, size, and shape of your teeth to blend in. It will look and feel natural, so you can chew, speak, and smile confidently.
Schedule Your Consultation Today
If you're ready to permanently replace your missing teeth, take your first step to a complete smile by contacting our office to schedule your consultation. We look forward to rebuilding your smile with the next best thing to your natural teeth.