Single Tooth Dental Implant – La Porte, IN
Full Tooth Restoration from the Root to the Crown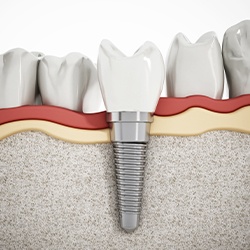 Although it may not seem like a big deal at first, if you have a single tooth missing for a prolonged period of time, it can lead to problems down the road. For starters, your surrounding teeth can begin to shift, which can cause malocclusion and leave you more susceptible to tooth and gum decay. It can also contribute to a reduction in your jawbone density. The good news is that you can prevent these issues by being proactive. To have your missing tooth replaced by a dental implant, contact us today at Region Dental to schedule a visit.
Single Tooth Replacement Options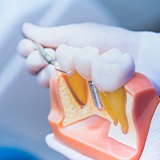 We provide patients with two avenues to replace their missing teeth – a fixed bridge or a dental implant. Here are the details about each procedure:
Fixed Bridge – Restoring your missing tooth with a fixed bridge (also called a crown and bridge) involves replacing the part of the tooth that is visible above the gum line. The bridge consists of an all-ceramic prosthetic that is permanently bonded to the surrounding teeth, leaving you with a functional and aesthetically pleasing restoration.
Single Tooth Implant – The difference between an implant and fixed bridge is that the former replaces the entire tooth structure, from the root to the crown. The procedure starts with your dentist in La Porte surgically inserting a titanium post into your underlying bone, which will fuse with the same through a process called osseointegration. Once this occurs and your gums have healed, he'll attach a titanium abutment, which will allow a final restoration to be permanently secured.
The Benefits of Implant-Supported Single Tooth Replacement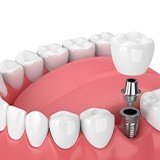 Dental crowns and bridges are effective at replacing a single missing tooth, but dental implants in La Porte provide a particular set of benefits:
With a dental implant, there is no need to alter the surrounding teeth, as the fixture is completely self-sufficient.
Implant insertion provides a way to stimulate bone cell production and increase jawbone density.
You won't have to worry about any shifting or gum irritation with the placement of an implant.
If you're looking for long-term benefits, then implant insertion is just what you need. With proper care, it can last 30 years or more.
Contact Region Dental to Have Your Smile Restored
There's no need to continue living without a full set of teeth. Contact us at Region Dental to request a visit with Dr. Berquist. By taking action, you can have your missing tooth replaced in the most reliable and effective method available!