April 11, 2018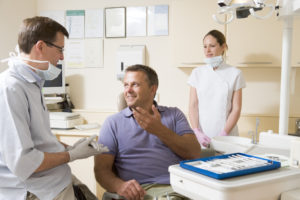 Patients with healthy smiles are not usually the ones who need to replace missing teeth. If you're struggling with a number of oral health concerns that lead to the loss of one or more teeth, you need to replace this lost tooth structure to ensure optimal oral health and function. Often, the best tooth replacement option is to use dental implants to support replacement teeth. Patients with poor oral health may not be the ideal candidates for this tooth replacement option, but thanks to advances in implant placement materials and methods, we can work with patients to improve oral health and replace missing teeth with dental implants.

How Dental Implant Improve Oral Health
If you have poor oral health, the last thing you need is a tooth replacement option that has further negative impact on your oral health. Traditional bridges and dentures require patients to remove healthy tooth enamel, rely on surrounding teeth for support, and place strain on oral tissues. Dental implant posts are inserted below the gum line where they mimic the lost tooth roots. This means your replacement teeth don't need to place pressure on healthy oral structures for support. Additionally, implant posts provide your smile the necessary stimulation to maintain healthy gum tissue volume and jawbone density. For patients with remaining healthy teeth, this significantly decreases risk for further tooth loss. For those patients who are already fully edentulous (without teeth), the stimulation from dental implant posts ensures you maintain your natural facial shape.
Getting Your Smile Healthy Before Implant Restoration
Before we being a dental implant supported tooth replacement plan, we do need to fully restore your oral health. If we place a dental implant post in damaged tissue, you are at increased risk for complications, including severe infection and dental implant failure. We'll begin by providing preparatory treatments like removing severely damaged or decayed teeth and providing oral or topical antibiotics to reduce the numbers of oral bacteria to limit risk of infection. Once your smile is healthy, we'll continue your tooth replacement plan.
Meet the Region Dental Team
Are you ready to start renewing your oral health and replacing missing teeth with dental implant supported tooth replacements? It's time to call the Region Dental team to schedule your tooth replacement consultation in our La Porte dentistry office. We'll evaluate your smile and partner with you to develop a plan to improve your oral health and replace missing teeth.
No Comments »
No comments yet.
RSS feed for comments on this post.
Leave a comment