November 19, 2017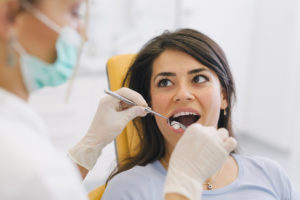 Take a look at your smile in the mirror. You can't see your back teeth, so they may not seem that important. Now, take a bite of something chewy. Suddenly, the fact that your back teeth are out of sight doesn't mean they're out of mind. Even if you can't see your back teeth, they are important in maintaining your smile's healthy function. Many patients who lose one or more back teeth think they don't need to replace them because they can't be seen, but replacing any missing tooth is essential to keep your smile whole and healthy. Dental implants, fixed bridges, and dentures are all tooth replacement options to repair your smile following tooth loss.

1 – Avoid Super Eruption & Dental Drift
When one tooth is lost, especially the large back teeth called molars, the remaining teeth may shift out of alignment, or they could "super erupt." When teeth shift to fill in the gap left by missing teeth is often referred to as dental drift. Supereruption refers to teeth that are too far above the gum line. Rather than just the biting surface and crown of the tooth, part of the root system can become visible.
2 – Preventing Further Tooth Loss
Tooth roots provide stimulation that keeps jawbone and gum tissue volume healthy. Over time, they begin to diminish without this necessary stimulation. This causes loss of stability for surrounding teeth that can lead to further tooth loss.
3 – Preserving Jawbone Density
Without the necessary stimulation, jawbone density begins to break down. This changes the shape of the face, places strain on the temporomandibular joints, and can make it difficult to speak, chew, or smile.
4 – Maintaining Gum Tissue Volume
A healthy youthful facial appearance relies on the structures of the mouth to create firm, full facial shape. Following tooth loss, there are no root structures to provide support and shape for gum tissue. Over time, this soft tissue breaks down leading to changes in the shape of your smile, which can cause sagging or facial wrinkles.
Meet the Region Dental Team
At Region Dental in La Porte, we offer a wide range of tooth replacement options, and we're always here to help whenever patients need us most. If you're missing one tooth, several teeth, or an entire row of teeth, we can help you repair your whole, healthy smile. Call our La Porte dental office to schedule a consultation today. We'll examine your smile, answer your questions, and outline all of your treatment options. Our dentists and team members are here to partner with you to create a personalized treatment plan that will renew your oral health and keep you smiling.
No Comments »
No comments yet.
RSS feed for comments on this post.
Leave a comment